Invisalign is the clear alternative to braces and was designed with the patient in mind. Invisalign uses a series of clear, custom-made aligners to gradually move your teeth into their desired position. These aligners are virtually invisible, comfortable to wear and easy to remove. Simply take them out for special occasions and brush and floss as normal throughout your treatment. Invisalign is the modern and hygienic way to straighten your teeth. When it comes to Invisalign, experience matters. Although many dentists and orthodontists offer Invisalign as a treatment option, many of these providers don't have orthodontic or Invisalign experience. The Invisible Orthodontist group have treated over 1,000 Invisalign cases and work together to treat a broad range of cases and improve clinical results.
Invisalign's teen treatment option – Invisalign Teen – is specifically designed to suit the active lifestyles and unique treatment needs of teen patients. Invisalign has several treatment options available for teenagers, depending on the stage of teeth development. Younger teenagers, or those who haven't got all of their adult teeth erupted can be treated with Invisalign Teen.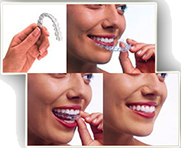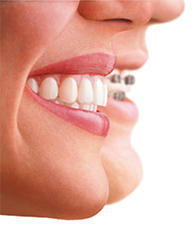 The Invisalign Teen aligners are made with the same Invisalign technology used for Invisalign aligners, with a few additional features including:
Blue compliance-indicators fade from blue to clear to help your dental provider, you, and your teenager to gauge wear time
Special features are now designed for canines, second premolars and second and third molar teeth.
Six free individual replacement aligners are included in case any get lost or misplaced.
The complex treatment needs of teens mean the experience level of your Invisalign provider becomes even more pertinent. All members of The Invisible Orthodontist group are experienced teen treatment providers.