SMILE ANALYSIS & MAKEOVER
Our website is under construction. We'll be here soon with our new awesome site, Subscribe to be notified.
Most people will judge a smile by teeth alone, but there is a great deal more to the ideal smile. Teeth, lips, and the soft tissue (gums) surrounding the teeth together make up a smile. If any of these three components deviate from the accepted norm, the smile may appear to be unsightly, even if the teeth are straight and white.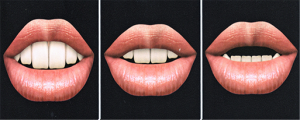 Lips play a dominant role in an ideal smile. Lip lines are classified as low, medium, or high, with medium being the most desirable. A low lip line is one that shows little or no tooth structure when talking or smiling. With a medium lip line the whole tooth shows when talking or smiling. A high lip line, considered a less pleasing appearance, is one where all of the front teeth and gum tissue above the top front teeth are visible.
The gum tissue surrounding the teeth should fill spaces between teeth that touch so no spaces occur. Where the tooth appears to come out of the gum, the gum should have a scalloped (wave-like) look that follows the upper lip line. It should be situated higher on the central incisors (front two teeth), lower on the lateral incisors (smaller two side teeth), and higher again on the upper canines, or eye-teeth. The left and right sides should be a mirror image of each other. Gum height around teeth can cause even straight teeth to look "wrong."
The teeth themselves should generally follow the lip line from left to right. They should be proportional to each other and themselves. Most often, a length to width ratio of 1.6:1 is desirable. Adjacent teeth also follow a similar proportional ratio when viewed straight on. If individual teeth are too long, wide, not in proportion to each other, or not mirror images left to right, aesthetic problems result.
Lasting Results and Functionality Cosmetic treatments performed by SMDC will not only have a tremendous effect on self-esteem, they can also improve how the jaw functions. As teeth wear down or edges of them chip, the bite will eventually collapse and this will place the burden of chewing on the jaw joints not on the teeth where it was designed to take most of the pressure from chewing. The other problem when teeth wear down is that it will eventually expose the underlying tooth structures and once that happens teeth will stain rapidly. Bleaching (Link to our whitening service) will only temporarily solve this problem and it will quickly revert back because stains have a much easier way to get inside.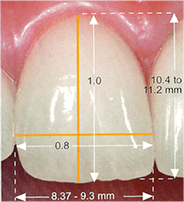 If there is something about your smile that bothers you, holding back your smile can eventually take its toll on your facial features. Years of holding back your smile or covering your teeth with your lips to hide them will eventually cause the muscles around the smile to lose its tonicity and the lower portion of the face will begin to droop accomplishing what you've been trying to do all along which is cover your smile. However this shouldn't be. Imagine your confidence if you had the smile you always dreamed about with diminished wrinkle appearance and improved muscle tonicity. Would you still hold back your smile? Or, rather look for any excuse to flash your beautiful appearance? That's what cosmetic smile makeovers can do.