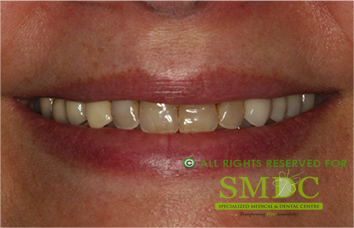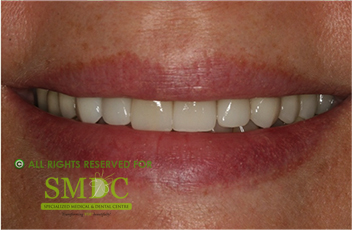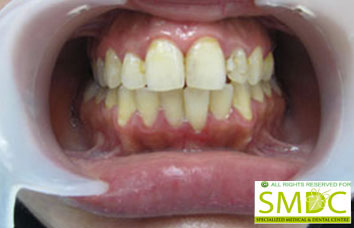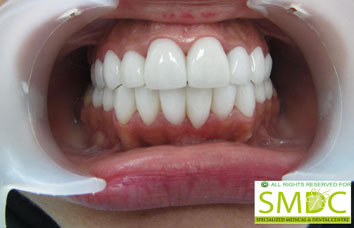 PORCELAIN VENEERS
Yellowish, misaligned & uneven teeth of our patient turned into more whiter, more brighter, and naturally stunning smile!
Done in just four visit by our expert and experienced cosmetic Dentist.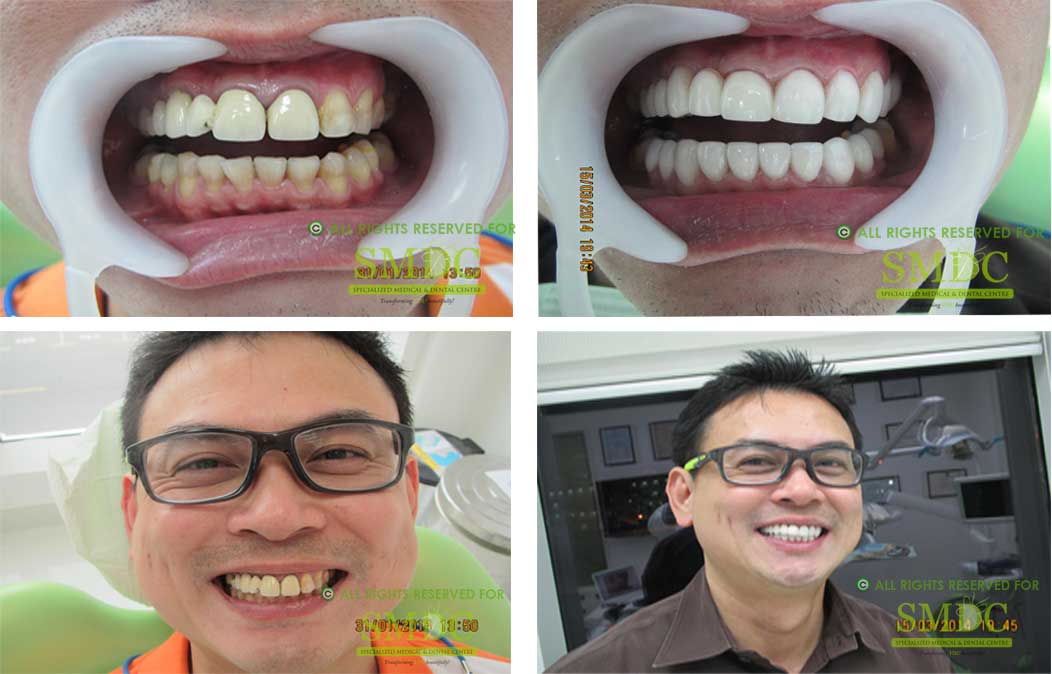 BRIDGE, CROWN & PORCELAIN VENEERS
This patient had extreme discolored and breaked old bridge and crown. He requested a more youthful and shiny smile,
so our expert cosmetic dentist did a total smile make-over and now the patient is wearing the natural looking smile that he has always wanted in just four visits.
PORCELAIN VENEERS
Discoloration due to problems of her old composite and amalgam fillings, old crowns, and esthetic appearance. We did a smile analysis, took impression and placed 10 veneers to enhance her smile like a hollywood star!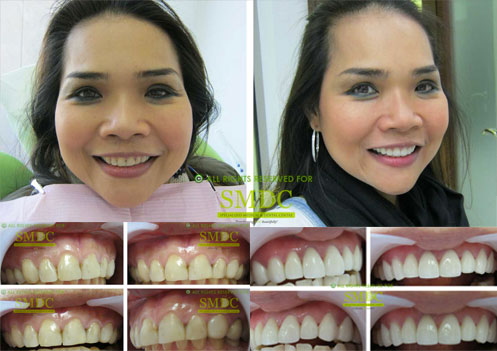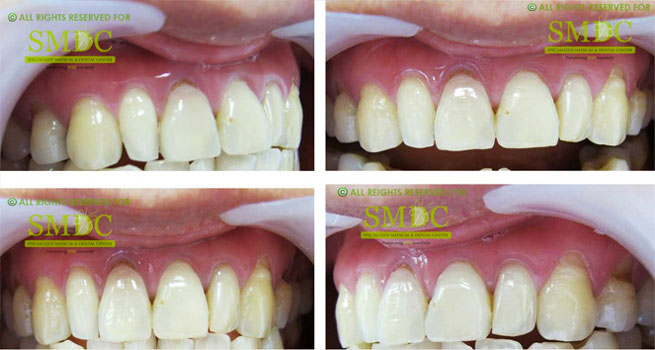 PORCELAIN VENEERS
This patient was diagnosed with multiple class V erosion and abrasion. We first did a smile analysis, took impression and photos as reference.
We placed eight veneers and look how we transformed such case into a perfect smile in just two week.
PORCELAIN VENEERS
This patient complained of a large space between the front teeth and heavy discoloration. We first bleached with custom take home trays.
Notice how we then have closed the spaces and improved the overall look with conservative cosmetics.
This drastic change was accomplished by placing only four anterior veneers.


SMILE MAKEOVER
This patient came looking for a Smile Makeover to fix her crown on her front tooth as well as the large spaces between her teeth.
Porcelain Veneers correct the problems and give her the smile she had dreamed of.
COSMETIC BONDING
This patient had severe enamel decalcification, and extreme decay in between this patient's front six teeth. The after picture was taken immediately after the removal of all the decay, and placement of composite (tooth colored fillings). Her gums are a bit inflamed, but her teeth look great. This improvement took less than an hour.


PORCELAIN BRIDGES
This before picture shows an old porcelain fused to metal bridge that is badly discolored. The gingiva has reacted negatively over the years to the alloy or metal, and the patient requested a more youthful smile. The after photo shows an all porcelain bridge spanning the front six teeth. This patient now has that natural looking smile that he has always wanted in three short visits.
TEETH WHITENING
Drinking coffee, tea or soda will stain your teeth over time, giving them a brownish or yellowish appearance. In fact, just getting older can have an effect on their color. Having a bright smile can make you look and feel years younger.
That's why so many people are having their teeth whitened. Consult to our cosmetic dentist and be one of our happy patient.


GUM GRAFT
A surgical / periodontal procedures whose combined aim is to cover an area of exposed tooth root surface with grafted oral tissue.
The covering of exposed root surfaces accomplishes a number of objectives: the prevention of further root exposure, decreased or eliminated sensitivity, decreased susceptibility to root caries and cosmetic improvement.
WE TREAT OUR PATIENTS WITH RESPECT AND GIVE THEM HONEST TREATMENT PLANS ON THEIR DENTAL ISSUES.
We value the trust they have given us and ensure that all procedures done are given with utmost care and attention.